The MiniWhats
A 52x7' animated series directed by Eugène Boitsov, adapted from the books by Olivier Tallec & Laurent Rivelaygue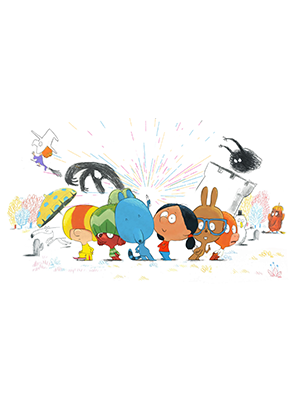 Synopsis
The MiniWhats are six characters (animals and humans) that evolve together in a world which is all white. One of them in particular, Olive, has the power to draw things that come to life. He creates scenery that comes alive and sets the scene for their imaginary adventures, as well as objects or other characters that help them to get out of sticky situations when they lose their bearings.
Partners
France Télévisions
CNC
Procirep-Angoa
Région Nouvelle-Aquitaine
Département de la Charente
Technical film summary
Original French title : "Les Quiquoi"
TV adaptation of « Les Qui quoi » by Laurent Rivelaygue and Olivier Tallec, published by Actes Sud Junior
Author : Laurent Rivelaygue
Graphic adaptation : Olivier Tallec
Screenwriters : Laurent Rivelaygue & Philippe Traversat
Director : Eugène Boitsov
Genre : Comedy, young kids 4-8
Format : 52x7min series
Techniques used : 2D Animation
Executive producers : Doncvoilà Productions & Silex Films
Year of production : 2021
Producers : Virginie Giachino & Joris Clerté (Doncvoilà Productions) - Priscilla Bertin & Judith Nora (Silex Films)
Animation studio : Silex Animation
Line producer : Philippine Gelberger (Silex Animation)
International Sales : MIAM!
Festival selections
Pitch at Cartoon Forum 2018